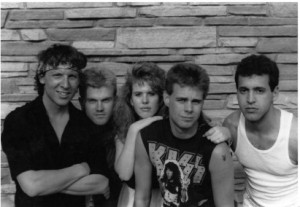 I worked college summers at a hardware store, The Big Tool Box. They hired our 5-piece rock band, Hott Mustard, to play outdoors in the garden center during a Saturday sale.
Our drummer was set up on plywood over a pond in the amphitheater – yikes!!
During the break-down in 'Wild West' (Escape Club), our singer changed the lyrics: "So put your flags in the air and march them up and down, you can live it up, live it up, all over the town; one hand's got some nuts, the other's got some bolts, I don't care as long as I get 9 volts!" (It was in our contract to provide us with 9-volt batteries for our wireless mics!)
The rest of us tried to join back in with the chorus as our brains processed what he'd just come up with – ever tried to sing when you're busting up laughing?!
Words were changed to "tool box" at every opportunity, like "Toolbox Rock" instead of 'Jailhouse Rock', etc… It certainly kept the band entertained! We former band mates always chuckle about this gig when we reminisce about our early careers!