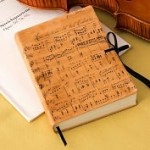 These are really nice! Some have leather covers, even!
Luxurious organization! What a perfect place to keep lyrics, poems and ideas for songs! Yes, you could get a $3 notebook from the supermarket any day – but these are special treats!
Any musician or music lover would love to receive one of these as a gift. I didn't want to wait, though, so I ordered one for myself!
---
---