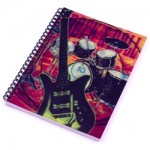 These are my favorite notebooks and journals for rock 'n' roll music lovers, guitarists, drummers, and music lovers in general.
These would be great gifts for students beginning their guitar, drums and rock 'n' roll studies to help cultivate their love of music.
Also great gifts for your favorite band teacher or fellow band mate!
---
---