I am frequently asked for advice about buying pianos/keyboards. Here are my tips and recommendations for you and your families.
Some of you are just getting started and don't have an instrument to practice on yet, and others of you have small/old/broken instruments and want to upgrade. Still others of you have more than one piano player in your family and would like to have another instrument available to practice on.
You Don't Need To Break The Bank
You dont need a second mortgage to buy a fancy grand piano or digital grand piano (if you've got space & extra $$$ though, check this out!). There are perfectly good instruments, even under $500, that barely take up any space. Some are quite portable, too.
My Recommendation?
I usually steer students toward digital pianos rather than acoustic because there are so many features and expandability in even the simplest of digital pianos – fun for the whole family! Also, headphones can be used for private practice, and volume can be controlled.
Recommended Features
Ideally, you should find a digital piano with:
88 hammer-action or weighted keys
Built-in speaker(s)
Touch-sensitivity
Pedal(s) or at least an input for a pedal to be added later
MIDI interface to use with computers and other MIDI devices
Headphone or dual headphone jacks
Lots of polyphony (up to 128-note) for combining lots of different sounds and notes at the same time (when using to play back MIDI stuff, for instance).
There are many of these digital pianos available in a wide range of prices. Generally, the more basic ones will cost less, but are perfectly adequate for learning piano and making music.
The 2 Basic Styles (not including grand or baby grand):
Digital Home Pianos

These look like traditional upright or spinet pianos, but can still be moved easily.

Portable Digital Pianos

These are more compact and can sit on a desk, wall shelf, bed (not ideal, but sometimes practical!) or portable stand.
There are some good deals available online. Be sure to check for used ones, too! The following are my favorites. Any of these would make a very good family instrument (Santa brought one for Elijah's room!). They all have 88-keys with hammer action and 128-note polyphony (great!).
My Favorite Digital Home Piano Pick:
(Traditional upright piano look)
CASIO  AP-220
$799 (MSRP $1,199.99)
click here to view details and/or purchase
It has 16 tones (piano, electric piano, organ, strings etc…) and weighs 83 lbs with stand.
*Comes with a matching bench, built-in stand, built-in music rest, 3 built-in pedals, and headphones (nice bonus!)
This piano gives you lots of bang for your buck in this style. There are others with more sounds, but not as much polyphony, and they cost more =;-(
My Portable Digital Piano Picks:
(Compact, light-weight)
CASIO Privia Px-130
$499 (MSRP $699)
click here to view details and/or purchase
It has 16 tones (sounds) and weighs only 25 lbs (!)
*Comes with attachable music rest and pedal, headphones, and heavy-duty deluxe portable stand. (Headphones and stand are often included as a free gift.)
The stand that is usually included is decent, but I do recommend the available furniture-like CS-67  matching stand for $100 (overall footprint is still tiny), or this pro-platform keyboard stand ($50 on sale) to allow better room for feet/knees underneath the keyboard than the included portable stand.
*A table top, coffee table, desk or wall shelf would work just fine, too, if you've already got one handy (or go to IKEA!).
I also recommend a key cover to keep dust out, for $25 (on sale for $19)(or if you're crafty, you could sew your own).
**If you don't think you need the included stand or headphones, you can buy the same PX-130 for only $440 at J&R. They also carry the Key cover for $21. Shipping is free.
*The CASIO Privia Px-130 is also available in SILVER (Click here for details) with matching stand and 3-pedal board for $599.
**CASIO Privia Px-330
$549 (MSRP $900)
click here for more info and/or to purchase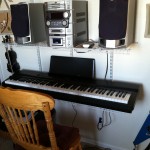 This is the step-up from the Px-130.
I LOVE this piano!! This is the one Elijah got (← see the picture of his music room) – he loves it, too!
For $200 more than the Px-130, you get 250 sounds and a 16-track recorder and some other bells and whistles. It also comes with a deluxe stand and headphones. It is also compatible with the CS-67 stand and should be covered with a key cover.

CASIO CDP-120
$399 (MSRP $699) budget board
click here for info and/or to purchase
This is a keyboard that is good for a tighter budget. It's a good price, but does not include a stand (the deluxe stand – $35 would be fine) – remember you can use a desk or table. It only has 48-note polyphony (remember these others have 128-note polyphony), but it would still be a fine tool for learning to play piano. I personally think the Px-130 above is a better value, but if a low bottom line is your bottom line, this CDP-120 would be a good choice.
**You can use any chairs you have on hand for any of these portable keyboards – the included stand adjusts to different heights, even standing, or you can get a nice bench with space to store music. I suggest this one.
Looks Like I'm An Avid CASIO Fan!
I am actually a huge fan of the ROLAND brand for digital pianos and keyboards (also Korg, Yamaha & Kawai), but they are more expensive. WILLIAMS has an affordable line of impressive looking pianos, but they fall short in comparison of features and sound quality (these would certainly be fine, too, though). CASIO has impressed me with it's digital pianos because they are full of great features, compact size and decent price.
For Sale:
If any of you want to own an acoustic piano (upright, spinet, or baby/concert grand), keep in mind that they are quite heavy and must be tuned about once each year, and they are susceptible to cracks in dry climates. (They can be used during power outages, however!)
I have a friend who is selling this spinet-style piano that looks quite nice (see attached photo) for $400 or best offer. If anyone is interested, reply to me and I'll relay info to the seller.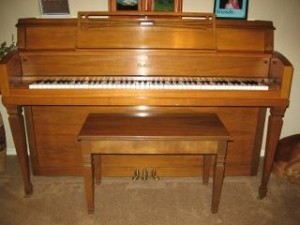 Don't forget to pick up some Piano Key Labels/Stickers if you do get a new instrument.
I hope this info helps!
** If you know anyone in the market for a piano/keyboard who needs info, please share this info with them. ? (Use the "Sharing is Caring" options below ?)


Thank You!