You Don't Need to Buy an Expensive Instrument to Learn to Play Violin.
I may draw criticism from violin "purists" who hold that students must learn on top-quality instruments, but I want to make learning music accessible to the masses, rather than limit it to upper-class, wealthy families.
I do want you to buy an instrument that will stay in tune (at least pretty well – all violins fluctuate and can easily be knocked out of tune), and one that does not feel or sound like junk. Up until a few years ago, I never would have thought that a violin which cost less than $100 would meet these criteria.
Little to Lose – Lots to Gain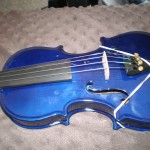 I purchased a 1/32 size violin for my then 2-1/2 year old son, and when he was 4 years old I purchased this 1/4 size BLUE violin for him – online.
I was skeptical, but figured that if these were junk, I had only spent what it would have cost to rent an instrument for just 2 months. If the instruments were playable, I would be able to use them for both of my children for a few years and then sell them, probably online, to recoup the cost. I felt I had little to lose and lots to gain!
Score!
I was so impressed when the itty-bitty 1/32 size violin arrived!
I was actually able to tune it up (this would be a challenge for a beginner, so find a local violinist to help you with this task, at first) and play it! (Okay- my fingers were on top of each other since it's so tiny, but it would work well for my toddler!) The violin came in a great little canvas-covered case with a "music" pocket on the outside (remember, it is a 1/32 size, so only thin little knick-knacks would fit in this pocket – not music!), a plush, silky blanket that matches the interior of the case, and 2 BOWS!!
To really put me over the top with purchase satisfaction, my son LOVED it!
Even If You Win The Lottery, I still Recommend Purchasing Inexpensive Violin "Outfits" (Under $500) For Beginners
At least until the student is able to use a 4/4 full size instrument. Then the sky's the limit! (And your budget, of course!)
Look for the term "outfit" when purchasing a violin online, which means that the case, bow(s), rosin, and sometimes other goodies are included as a package deal.
There you'll find info and some useful links for what you'll need to start violin lessons.This should save you time & money. The products are what I recommend for my students and the stores are places where I have personally shopped and trust to be reliable resources for you.
Happy shopping!